Waiting in Line for Church at Irving Plaza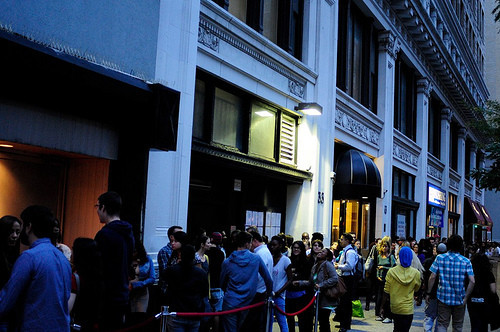 A few Sundays ago, when Hillsong NYC launched its first weekly services at 4 p.m., 6 p.m. and 8 p.m. at Irving Plaza in Union Square, the church expected big things. For week's they'd held volunteer meet-ups and worship services where attendance reached the hundreds. (FaithStreet, the best place to find churches in NYC, took notice.) Were they anticipating the 1,000s of people that showed up for their three Sunday services? Not sure, but they had to be stoked.
What I am sure of is that Hillsong NYC has a lot to teach other churches in New York City who are interested in growth. A few potential take-aways:
(1) Embrace popular media. Jesus met people where they lived and worked and played. (e.g. the woman at the well, the folks at the wedding where he turned water into wine). Similarly, Hillsong meets people on their computers and on the streets of the City. Snazzy posters around the city, persistent Twitter campaigns and an aggressive pursuit of media exposure.
(2) Hold services in the afternoon and the evening. New Yorkers stay up late, often really late. It's just a reality that many New Yorkers won't come to church at 10 a.m., 11 a.m. or even 1 p.m. because they are ASLEEP.
(3) Speak the language. Head pastor Carl Lentz recently said that if Hillsong were a club then the cross on Calvary would be its "models" and the sanctification of believers would be its "bottles." That might be a forced analogy, but its shows that Hillsong is willing to at least engage with the way people in this city think and talk.
For sure, since Hillsong NYC is part of the international Hillsong network it's had some advantages getting started that other churches do not. But Hillsong is still a brand-new church plant and faces many of the same challenges that all new churches do, including the need to recruit volunteers and fundraise. This means that other churches can learn a lot from what Hillsong does well.
Something cool's gotta be going on at the services. FaithStreet's gonna check 'em out soon because FaithStreet's mission is to help people connect with churches and we're hoping to learn something from Hillsong.