Win over $3,000 worth of Prizes from FaithStreet and Proclaim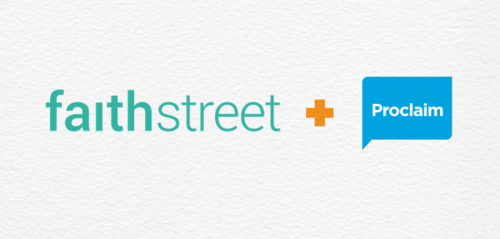 FaithStreet and Proclaim are giving away over $3,000 worth of prizes this month. Build beautiful church presentations with Proclaim and increase giving with FaithStreet.
One winner will receive:
FaithStreet Giving provides text, mobile and online giving to help its church partners increase giving by 10-30%. Our online and text giving tools are easy to use, simple to manage, safe, and secure. A year-long FaithStreet Giving membership is worth up to $2,500, depending on the size of the church, and includes comprehensive technical support and best practices coaching.
Givers can give to your church anytime, anywhere with their card or bank account, and on any device. Weekly, monthly or twice-per-month, givers can choose exactly which dates they'd like to give. FaithStreet Giving is the best way to increase giving at your church.
With Proclaim you can create beautiful church presentations with less time and energy. Proclaim is a cloud-based presentation software that allows your team to work on the presentation from wherever they work best. No more USB drives, email attachments, or stressing out. Let Proclaim handle your church service. Proclaim is free for 30-days. Download it today.
Don't miss out—this giveaway ends February 28! Enter to win today:
Enter to Win a year of free giving and Proclaim Church Presentation Software
We'll select and notify a winner March 1. By entering the giveaway, you're opting in to receive emails from FaithStreet and Proclaim.